Are Your Covered for Sinkholes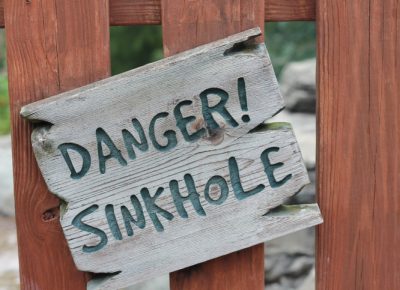 Spring is coming and sinkholes are coming too! According to the USGS, the most damage from sinkholes tends to occur in Florida, Texas, Alabama, Missouri, Kentucky, Tennessee, and Pennsylvania. That's right Pennsylvania is one of the to sinkhole states. You may be aware that earthquake and flood coverage does not come standard on commercial property insurance, but have you considered sinkhole and/or mine subsidence insurance?
Sinkholes are more common in certain parts of the country, but have occurred in all states. In some states, insurance coverage for sinkholes is more difficult to obtain, but it may be worth the cost due to the higher risk and significance of damage.
In a similar vein, 31 states have documented incidents of mine subsidence. This is when the ground itself moves or gives way due to historical mining activity that has damaged the integrity of the land on which your building is erected.
Movement of the ground under or around your building can damage your foundation, frame and parking lots and can lead to unsoundness or total collapse. Repairs are typically expensive, and a move to a different location may be required.
Speak with your agent or broker to explore your region's risk, as well as options for coverage, whether it is through a state program or directly with an insurance company.
Rettino can make sure you are getting the best bang for your buck. Let us review your policy for free. Call for a Quote Today!