Life and Disability Insurance in Mays Landing, NJ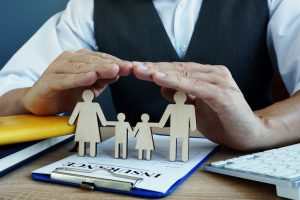 For the team at Rettino Insurance, its all about making sure you're covered. For 65 years they have used their expertise in assisting residents in Mays Landing, NJ with life and disability insurance. Using the best and top rated companies, Rettino is able to provide clients of all sizes with insurance that covers the most at the fairest prices.
We understand that in life, things change. Whether its sudden or anticipated, everyone will experience the frustration of having to organize arrangements after an accident or a loved one has passed. In those times of grief, you're still expected to handle the finances, arrangements, and planning. Rettino is able to provide the right protection for your finances to the right surviving dependents. We can help you asses and manage the depth of your financial situation, and use that data to choose the best plan to match the standards of living your dependents will need. Our agents will be key players in establishing the right quality of life your dependents will have when that time comes.
Injuries that result in a disability have a huge impact on your finances. With Rettino, we know that being unable to work can put you in a tight financial position. Being unable to work can interrupt the flow of bills being paid and services provided. With us, we believe in protecting your income in the event of missed work due to illness or injury. Disability insurance can be long-term or short-term versions with the Social Security Administration also providing disability insurance.
For us at Rettino Insurance, we want to be the safety net you can depend on when those moments land in your lap. We believe in being proactive for the smoothest outcomes when the time is right.
Rettino Insurance can help you in selecting a plan that will cover you. Contact Us for a free consultation and quote on life and disability insurance in Mays Landing, NJ